Royal Canadian Mint Maple Leaf Silver Bullion Coin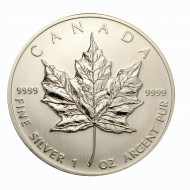 Following the success of the Maple Leaf Gold Bullion Coins introduced in 1979, the Royal Canadian Mint started in 1988 to produce a one-ounce Silver Maple Leaf Coin.
Because of its fine silver purity (.9999), its flawless quality and its appealing design, the Canadian Silver Maple Leaf has become the preferred coin for many investors around the world today. These coins are the highest purity silver struck by a government mint.
Design
The obverse of the Canadian Maple Leaf Silver Bullion Coin bears a sculpture of Queen Elizabeth II, the year of production and the face value in Canadian dollars. The national symbol of Canada, an exquisite single maple leaf, adorns the reverse.
Eligible for Inclusion in Your IRA
The Canadian Maple Leaf Silver Bullion Coin is eligible for inclusion in your IRA.
Contact Us

24 Hour Spot Prices

| | Change | Bid | Ask |
| --- | --- | --- | --- |
| {{item.name}} | {{item.change}} | {{item.bid}} | {{item.ask}} |

What We're Reading

Larry LaBorde

Recent Tweets

Search