Isle of Man Noble Platinum Bullion Coin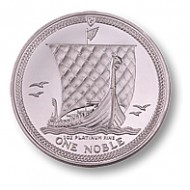 The first platinum investment coin, the one-ounce Noble from the Isle of Man, was introduced in November 1983. The Isle of Man, an ancient British protectorate, is well known for producing a variety of high-quality coins with innovative and unusual designs. From 1983 through 1989, The Pobjoy Mint of England produced the Isle of Man Noble Platinum Bullion Coin in sizes ranging from 10 ounces to 1/10 ounce, with the face value shown in "Nobles," a value equal the platinum content in troy ounces.
Design
The obverse of this striking coin features a crowned, young Queen Elizabeth II. The reverse features the Viking longship Thusly, shown under full sail.
The Isle of Man Noble Platinum Bullion Coin comes in five convenient sizes:
• 1 ounce
• .5 ounce
• .25 ounce
• .1 ounce
• .05 ounce
Contact Us

24 Hour Spot Prices

| | Change | Bid | Ask |
| --- | --- | --- | --- |
| {{item.name}} | {{item.change}} | {{item.bid}} | {{item.ask}} |

What We're Reading

Larry LaBorde

Recent Tweets

Search